AUTHOR: APEworks DATE: 11:31:00 AM ----- BODY:
If you have iTunes installed on Windows and you don't have an iPhone (even if you do), you may want to sit up and take notice; there's now an alternative called SongBird that mops the floor up with Steve Jobs' face. Admittedly, it's not new, but it's been out for a while and I never hear about it, so it must not be getting the press it deserves. First, a little backstory... there are a bunch of stupid little Windows services and programs that install themselves when you install iTunes (including that annoying Quicktime autoupdater thing) that really annoy the hell out of me, and they should annoy the hell out of you too, especially if you're trying to squeeze every ounce of performance (or get some back) from your aging XP installation. This Bonjour service, Apple Mobile Device Support service, QuickTime updater, and all the other random crap that's installed and checked off by default (seriously, what serious Windows XP user has Apple wireless speakers?) is enough to make you run and duck for cover, but you don't want to miss out on all of the cool shit that your iPod can do because it reports back to the mothership - iTunes. So, install this handy little program called SongBird (still in beta but running pretty well, nonetheless) and take back your precious little computing cycles. Oh yeah, you can download new add-ins and skins and everything else to make SongBird look and act pretty much like iTunes, without all the detritus.

Labels: Bonjour, ipod, itunes, music, songbird, windows xp

-------- AUTHOR: APEworks DATE: 1:08:00 PM ----- BODY:
You have to love renaissance men. Especially ones that paint pictures of monkeys. Smoking. Rad. Limited edition painting by Marc Johnson, printed on a shirt, available at SkateBook.tv, and brought to my attention by Uncle Alex.

Labels: art, marc johnson, panda, skateboarding

-------- AUTHOR: APEworks DATE: 8:16:00 AM ----- BODY:
Okay, it has come to my attention that, because of the stupid hacks and cracks that I've been using on this Blogger account, Microsoft Internet Explorer 7 fails to load this site properly. Well, for the short answer, download Firefox. For the long answer that you may not understand... From Gary Haran.COM...
Internet Explorer doesn't like scripts appending elements to the existing DOM, especially when the script tag is inside ul, ol, table, form, blockquote, and various other tags…. When Internet Explorer fails it fails spectacularly by shutting down the script engine and aborting page rendering. Solution(s) One way to circumvent the error is to wait till the entire page DOM has been rendered. You can do that with window.onload or if you prefer using Prototype Javascript Framework you can get away by launching the DOM operation with dom:loaded.. jQuery has the ready method but numerous frameworks come with their own implementation.
Labels: computers, design, IE, Internet Explorer, websites

-------- AUTHOR: APEworks DATE: 9:18:00 AM ----- BODY:
I had the pleasure of watching Death Cab For Cutie for the first time since I personally discovered them well before the EMO kids got a hold of them. The show was great, the venue was great, but most of all I'd like to thank the fans. For not being so damn EMO; for recognizing the proper ending of (most of) the songs and not clapping too early; for not standing up during the entire show and subsequently forcing my lazy ass to stand up; for not singing along too much (except for the requisite cell-phone waving anthem "I Will Follow You Into The Dark"); and for generally not being the annoyance that made me stop wanting to go to shows. Thanks EMO kids, a fresh pack of Schick razor blades for you all.

Labels: Death Cab For Cutie, emo, music, schick

-------- AUTHOR: APEworks DATE: 4:07:00 PM ----- BODY: The dark-haired girl in the video, causing this "state of high piss-off", is my little cousin. Who's not little anymore. Weird seeing some dude sensually running his hands up and down your "little" cousin's body. Truly weird. By the way, she (cousin) is of age now, and I'm pretty sure she was of age when she did that video. And that band has since disbanded. Hopefully not because of her. At any rate, it's good to see that pissing people off is an inherited family trait. Even though "piss off" probably means something completely different in the UK. Thanks for the link, Pufferfish - I need to wash my eyes out now. Again.

Labels: music, Pufferfish, Thirst, those damned English people, video

-------- AUTHOR: APEworks DATE: 2:54:00 PM ----- BODY:
Well, in one fell swoop (actually, it was a long dull-butter-knife-through-frozen-ham five or six months) I've been relieved of my responsiblity as

Editor-in-Chief

at TPR Magazine and am now relegated to simply being a Contributing Editor. No more (real) control of editorial direction**, no more website updates (which I had, incidentally, just started to work on - I didn't even get a chance to throw up my new layout and framework). Don't get me wrong - I'm not complaining. While it was a great experience, it did take up way too much time trying to run the whole thing with just one other guy. It's not so much that the new owners made me go, but that with the direction they wanted to take the magazine, I didn't want to be the "definitive" voice behind it any more. Sure, I'm still responsible for the bulk of the editorial that is farmed out to freelancers (which is, at this point, 100% of the editorial since there aren't any editorial staffers) but at least I get to work for other magazines now. I guess it's time to make up with Rodrez and go shoot one of the millions of Civic hatchbacks in San Diego County. So, for all you other guys to whom I used to say, "I'll get back to you when I have time," well - now I have time, so you should be hearing from me shortly. * That's why there's a fuzzy, out-of-focus, blurry drift shot I placed

For Placement Only

that ended up staying as the cover, saying nothing of the brilliant artwork done by the old cover artist guy on Issues 6 through 22 that was the mainstay of TPR's covers.

Labels: automotive, magazine, photography, the end, TPR

-------- AUTHOR: APEworks DATE: 8:33:00 PM ----- BODY:
I'm man enough to admit, I've done some "graphic design", but I'm no graphic designer. As a wise man once told me (of my design "style"), "It's not ripping off - it's being

inspired by

." So, for all those times I've made

inspired

errors in design judgment (and there are MANY) someone has created the DESIGN POLICE! For all you up-an-coming designers, pay attention!

Labels: design, magazine, websites

-------- AUTHOR: APEworks DATE: 12:00:00 PM ----- BODY:
Goodbye, Borrowed Toyota Sienna; the Transporter2 is now in my possession - I picked it up earlier this morning for a song (you gotta love Craigslist). Now, all I have to do is get it pass smog even though it's been sitting in a condo complex parking lot for a good part of the last year and a half, and hope that everything is as mechanically sound as it appears to be, once I clear away all the dust, leaves, and spider webs in the engine bay. Oh yeah, and for you fuckers that stole/broke into my past project cars, this one's gonna be waiting for you. Real-time GPS tracking, remote notification of alarm events, and maybe a nice little hidden web-cam, so even if you do manage to break into the car without me coming out and shooting you, I'll have a picture of your ugly ass to hunt down. Before I go to the cops with it, of course. Sorry, I hate car thievery. Like the movie says, "First rule: respect a man's car, a man respects you."

Labels: 855, automotive, magazine, Start, TPR, Volvo, wagon

-------- AUTHOR: APEworks DATE: 8:18:00 AM ----- BODY:
The Formula D Season Opener is this weekend at Streets of Long Beach. What's more important is that Rob Dyrdek is somehow going to be the grand marshall. I'll let that soak in for you guys that know a little something about both skateboarding and drifting. I'm just eager to find out - is "J-Rod" going to be there too?

Labels: drifting, Formula D, Rob Dyrdek, skateboarding

-------- AUTHOR: APEworks DATE: 12:44:00 PM ----- BODY:
For those of you that love to waste time chatting, telegraphing your every move, checking to see if the prom queen got fat, or pretending to be "so over" MySpace, there's an application that you can download to get everything you need in a simple user interface. www.DIGSBY.com It's still in BETA (which means it could break shit, like my website is currently) but it's free, and could just turn you into one of those people that rarely leaves the computer. Like me.

Labels: chat, computers, digsby, facebook, myspace, twitter, websites

-------- AUTHOR: APEworks DATE: 10:04:00 PM ----- BODY:
My D70 is dying, and it looks like it's time for a new camera. At first glance, this looks like it could be the next one. Nikon D300 MSRP $1799

First, I maxed out the memory on my Dell, then I enabled some 3GB and PAE switches to make Windows XP "see" as much of that memory as possible. Then I installed Adobe Creative Suite 3 Master Collection. Then I started upgrading the sites I've been administering to the latest iteration of Joomla, starting with my own. Then it all came crashing down. So, my site is currently down, and I'm relegated to Blogger posts. Again.But, in the interest of continuing to make shit worse, I'm blogging using the latest edition of Zoundry's Raven, still in pre-release mode.

Labels: computers, design, Joomla, photography, websites

-------- AUTHOR: APEworks DATE: 2:53:00 PM ----- BODY:
I wanted to capitalize on all the political hype and retardedness of the Democraptic National Convention, but alas Cafe Press said, "No!" They removed my well-tagged shirt from their search engine because it violated their terms of service. I thought my tribute to Shepherd Fairey (of Obey/Giant fame) qualified under the Presidential Candidates fair-use image exemption (which I knew it probably wouldn't under any stretch of the imagination, since this guy has been a departed soul for quite some time now) but now it's relegated to the backpages of this blog. Obey, bitches.

Labels: Bob Hope, Cafe Press, Obama, Obey, Shepherd Fairey

-------- AUTHOR: APEworks DATE: 11:45:00 AM ----- BODY: Portishead. "Magic Doors." Third. And if you don't know, now you know,

mongoloid

. *This isn't the actual video. Some crack smoking uber-fan just put it together for the song. Check out more of his stuff here. Do you need to read more? Portishead is the shit. Go buy their album when it comes up. Download it now so you can be ahead of the game, but buy it when it comes out. Get it from here.

Labels: music, Portishead, third

-------- AUTHOR: APEworks DATE: 3:01:00 PM ----- BODY:

... this video is aimed at you, especially if you're wondering what the "Flare" in the title means. In a nutshell (similar to the nutshell you're wearing now), you don't need TAJ's to kick ass (and you don't need to be under 24 yrs old, either...) Support those rich bastards at Lakai and buy this video (none of that streaming it on YouTube crap) because I guarantee it's much better than you think it is.

Labels: Koston, Lakai, marc johnson, shoes, skateboarding, video

-------- AUTHOR: APEworks DATE: 10:42:00 AM ----- BODY: Rock Band is out today... ... and, yes, I do actually own and play several "real" guitars. The thing is, if you can play the virtual 5pc drum set in Rock Band, you would probably play a real drum set very well. Like the crack-smoker in the video above. And if you don't know, you better ask somebody. Like Neal Pert.

Labels: guitar hero, music, rock band, rush, tom sawyer, video games

-------- AUTHOR: APEworks DATE: 12:33:00 PM ----- BODY: I didn't film any of this (actually, I haven't filmed anything since Birdhouse's "The End" - get it?), and I sure do hate me some Shaun White, but the latest Birdhouse video

The Beginning

is out and there's a "local premiere" at the Epicenter in Mira Mesa on the 20th. I'll be "that guy that used to skate every day" in the VIP section with my kid. You should check it out, too. Support skateboarding. Film starts at 8:00pm. While you're at it, pick up a copy of Willy Santos' shop video,

Film This

, available at Willy's Workshop on THIS link,

not

this link

like you might believe. Damn, Willy, you gotta do something about that...

Labels: beginning, birdhouse, skateboarding, the end, willy

-------- AUTHOR: APEworks DATE: 3:12:00 PM ----- BODY:
This is for all of you with hacked copies of Windows XP, who constantly complain that some of the sites that I'm building are showing up as gibberish in your browser. This is probably because you can't download any updates for your hacked copy of Internet Explorer 6 without getting the

Windows Genuine Advantage

star in your taskbar (see it there, right next to the clock?) Well, take a step into 2006 (yes, I'm aware it's 2007 - that's how old your browser is) and download the latest browser from Micro$haft, Internet Explorer 7. In a bid to reclaim their position as "the most used browser on the planet", they decided to unlock IE7 (that means you can download it and won't have to verify with Mr. Gates that you actually purchased a copy of Windows XP) so now you have nothing to worry about and, eventually, I won't have to code IE6 hacks into my web pages. Get it straight from Microsoft and thank me later. Or with Paypal.

Labels: Firefox, IE, Internet Explorer, Opera, Safari, Yahoo

-------- AUTHOR: APEworks DATE: 12:13:00 PM ----- BODY: ... yeah, this video is old, but I just found a good .MOV file from the director's site here. 50 Bonus points to whoever can correctly identify Doug and at least one other band member, another 50 if you have the entire BTS discography, and -500 points if you know where people can go jousting in the 21st century.

Labels: built to spill, Magic, magic the gathering, Nerd, video

-------- AUTHOR: APEworks DATE: 10:00:00 PM ----- BODY: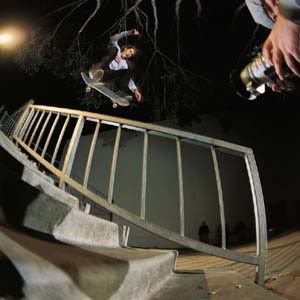 Okay, I'm turning into one of those shoe collector fags, except I actually wear my shoes, and they aren't really special editions or hand-painted Chuck Taylors or whatever. And I'll never spend more than $100 on a pair of shoes anyway. Hell, if my kids can get new school shoes, so can I. Etnies ArtoMid, designed by Arto Saari, 10.5 BLK/WHT/BLK
Labels: arto saari, chuck taylor, etnies, shoes, skateboarding

-------- AUTHOR: APEworks DATE: 11:07:00 PM ----- BODY:
Since about Firefox v1.2, I've been an adamant user. Sure, some websites just didn't want to play nice (like Yahoo!'s Launch music and video watcher), but there were workarounds. I used to tell people that they sucked for using Internet Explorer in any version, and that they should upgrade to the turn of the century with Firefox and all it's mouse gestures and downloadable tweaks. Now that FF v2.+ is out, I have to say, it's become pretty damned bloated, and a WHOLE LOT MORE websites and templates are breaking. Maybe it's the way it handles some validated CSS, and not others. Maybe I'm just a sucky coder. But, I still can't recommend IE7 in good faith, and there's no way I'm sending people to the Windows version of Safari. Maybe it's time to take another look at Opera? Yeah, I'm a nerd that worries about "computers and stuff." At least I don't play Magic:The Gathering.

Labels: Firefox, IE, Internet Explorer, Magic, Nerd, Opera, Safari, Yahoo

-------- AUTHOR: APEworks DATE: 10:36:00 AM ----- BODY: Not to be confused with Mark Johnson, although he's a nice guy, too.


I'm talking about this guy...
Because he's the bomb. And he's regular footed. So I bought his shoes. Lakai MJ-3, White/Black, 10.5
Labels: Lakai, marc johnson, skateboarding

-------- AUTHOR: APEworks DATE: 11:44:00 PM ----- BODY:
Happy turd of July! The fuel pump went out on the 535, along with my desire to start fixing it again. So, I'm gonna get it running and (hopefully) move all my crap into something like this pretty soon... 1994-1998 Volvo 855 Turbo. No 4WD or NA for me, thank you very much.
Labels: 855, BMW, Craigslist, Kia, Volvo, wagon

-------- AUTHOR: APEworks DATE: 7:28:00 AM ----- BODY:
According to the IASC website:
For one day, skateboarders take over the world! Imagine 20 million-plus skateboarders, riding at the same time. No school, no work, nothing but skateboarding.
It's scheduled for 21 June this year (actually, every year) so you still have time to get a board. Hell, if Ocean Howell can still rock it, I should be able to, too. As should you...

Labels: go skate day, ocean howell, skateboarding

-------- AUTHOR: APEworks DATE: 9:41:00 AM ----- BODY:
If you know me, my history, my likes/dislikes, etc, you may actually believe that the blog found here...

http://datruthcometh.blogspot.com/

... is somehow my doing! While I do find some of the content funny (and by funny I mean nail-on-the-head accurate and hilarious) I would like to take this opportunity to officially state:

I AM NOT DAMESSENJAH and I DO NOT POST ON DA TRUTH COMETH

Okay, now that that's out of the way - good luck

DaMessenjah

, whoever you are. Just so you know, the industry is wildly speculating about your identity. But, since you appear to be an "industry insider", you probably know that already.

Labels: blog, damessenjah, datruthcometh, not me

-------- AUTHOR: APEworks DATE: 1:51:00 PM ----- BODY:

It's Blur, "Coffee and TV", off the album, "13". Yeah, the one with that stupid-ass "Woo-hoo" song.

Labels: Blur, coffee, music, tv, video

-------- AUTHOR: APEworks DATE: 8:00:00 AM ----- BODY:
I am by no means a shoe connoisseur, but I suppose to be "current" with popular blogs, I'm supposed to tell everyone what kind of shoe I'm wearing. So, here's what wraps my ingrown toenails right now.

Lakoston : Brown Leather : by Lakai Limited Footwear

Labels: Koston, Lakai, shoes, skateboarding

-------- AUTHOR: APEworks DATE: 11:31:00 AM ----- BODY: If you only know Clint Eastwood as Dirty Harry (or better/worse yet, from THIS movie, or as the director of THIS movie), then you're missing out on a whole lotta Clint Eastwood. Watch the video above, then find out why it's so funny after the break.

Bomb Ass Clint Eastwood Movies You Must See

A Fistful of Dollars For a Few Dollars More Hang 'Em High High Plains Drifter The Outlaw Josey Wales Firefox** Pale Rider Unforgiven **(okay, this isn't a spaghetti Western, or even a Western, but he HAS TO THINK IN RUSSIAN TO LAUNCH MISSILES! How fuckin' 1982 future-cool is that?) After you watch all of these movies, send me an email on why you think Clint Eastwood is the shit, then go buy that Muse album.

Labels: Clint Eastwood, Heavy Metal, Muse, music, Sergio Leone, spaghetti, Western

-------- AUTHOR: APEworks DATE: 11:25:00 AM ----- BODY: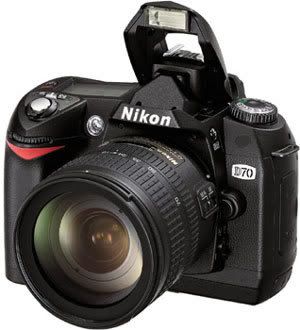 It's 2005 and I'm moving on up to the "I-have-more-mega-pixels-than-you" digital camera age; I got a new camera, thanks to an unknown (to you) benefactor. All you camera nerds out there may think, "Well, my balls are bigger because I bought a D2XS" and to that I say, "If your photo skills are determined by the size of your visual element or the number of years you've been using Photochop, more power to you." A "working" photographer would know how to best appreciate and exploit this barely-over-$1000 gem; this guy would agree. Bye-bye Provia, hello SanDisk! Maybe I can shoot more skateboarding pics now that I'm not hampered by $8/roll slide film!
As the masthead suggest, I am the new Editor-in-Chief of TPR Magazine. Demographically speaking, I also fall (just barely) into the 24-30yr old crowd, as do most of my friends. So, at first glance, one would think that I am a perfect example of the Gen X/Gen Y Tuner Lifestyle Crowd. Indeed, my household encompasses four imports, so that would qualify us in quantity alone; one of those imports happens to be a modified Acura, and that would seem to solidify our place (or at least my place) in this Gen XYZ class, no?

But if we were to subscribe to the Tuner Lifestyle Theory, then any of the following could be said about me : I listen to underground hip-hop music; I have pictures of import models strewn about my house; I spend at least 1/4 of my disposable income on automotive performance parts and accessories; I like to watch action sports; I have a desire to "be noticed" for the car I drive; I have an interest in the size of any given celebrity's chrome rims; I play driving games on game consoles when I'm not out driving my own real car; I am interested in anything and everything Japanese, simply because of its point of origin; I go to clubs and enjoy dancing; I own the very latest bleeding edge consumer-level technologies; I spend a sizable amount of money on current fashion trends; I read car lifestyle magazines to see and hear about other people like me.

Simply put, none of the above apply to me. I will even go so far as to say that this whole "Tuner Lifestyle" thing doesn't actually exist anywhere except in the minds of the advertising and marketing geniuses that thought it up, and quite possibly in the minds of a theoretical group of 12 to 14 yr olds that sit around and hope for the time to come when their lives will reflect what they see in, say,

Import Tuner

,

Super Street

, and other magazines that cater to that same nonexistent group of "auto lifestyle enthusiasts," or whatever that focus group is being called these days.Am I now going to tell you what I do for fun, what kind of music I listen to, where and how I spend my disposable income? Actually, no - it has nothing to do with automotive performance and nothing to do with the task at hand. Sure, one could argue that I'm the new Ed and, as such, have a responsbility to let the readers know where I'm coming from. But I would contend that the Editor's job is simply to collect the information for the magazine, distill it, and insure that the final product meets or exceeds your expectations. Subsequently, the name of my favorite band is of no consequence to anyone reading this column, and therefore will not get a mention. Additionally, TPR Magazine should not be a forum for how I wish my lifestyle to be - we'll let the aforementioned Primedia titles do that as they seem to have that illusionary lifestyle marketing thing down pat. What it will be, as it has been and will continue to be from this point on, can be summarized in this paraphrasing of my favorite author, Jerome David Salinger. We will simply imagine what we, as automotive enthusiasts and not harbingers of lifestyle makeovers, would like to read the most. Then we'll sit down and write it ourselves, put it between two covers, and offer it up for your perusal.

Out of context, the above may not seem to make sense, what with me showing signs of actually following the mythical "tuner lifestyle" (action sports, multiple modified import vehicles, etc.) but that again, that was my first editorial for TPR/Tuner Performance Reports magazine, a tech-heavy publication whose readers really have no business caring about what I do in my spare time. You, on the other hand, are on my blog, where (in the name of hyperlinking everything to hell to boost my Google ratings) I can blog about just any damn thing I please. So, for all you detractors and "bullshit"-callers, I say - bite me.

Labels: automotive, editorial, lifestyle, TPR

-------- AUTHOR: APEworks DATE: 6:06:00 PM ----- BODY: ...but Thom Yorke will still be involved in some creepy shit.

Labels: Creep, DJ Unkle, music, Radiohead

-------- AUTHOR: APEworks DATE: 1:00:00 AM ----- BODY:
BLOG

(n) :

a Web site that contains an online personal journal with reflections, comments, and often hyperlinks provided by the writer
As defined by Merriam-Webster's Online Dictionary
Now, a "real" blog would then contain items of seeming interest to me. However, those of you that know me (at least, those that know me well) will recognize that I am a very private person, and the last thing I would really want to do is to tell potentially millions of people about the innermost workings of my days, interests, and other minutiae.

"Real", interesting, popular blogs are written by, ostensibly, extroverts. I am not one of those people.

So why blog then, you might ask…

Think of it as a form of Radical Transparency, a way for me to write whatever I want and not have to worry about if it's going to bite me in the ass later.

Finally, if you don't know me - well, you really need something better to do than sit around reading random people's blogs.

Labels: Start

--------

My blog has moved! Redirecting…

You should be automatically redirected. If not, visit http://blog.ape-works.com and update your bookmarks and linkbacks.